Latest news
Scope Award Winner 2021

NEWS
November 26th, 2020
ODDO BHF through its asset management arm ODDO BHF Asset Management wins the Scope Award 2021 as best asset manager for Multi Asset

ODDO BHF through its asset management arm ODDO BHF Asset Management wins the Scope Award 2021 as best asset manager for "Multi Asset" in Germany, Austria and Switzerland. This is the first time ODDO BHF Asset Management has won this prestigious award launched by the independent rating agency Scope Analysis 15 years ago. All multi-asset funds distributed in Germany have been thoroughly scrutinized for the award, in particular the four ODDO BHF Polaris funds. Managed and/or advised by ODDO BHF's private wealth manager ODDO BHF Trust the ODDO BHF Polaris Fund range offers investors four different risk profiles: ODDO BHF Polaris Moderate, ODDO BHF Exklusiv Polaris Balanced, ODDO BHF Exklusiv Polaris Dynamic and ODDO BHF Polaris Flexible. The award illustrates the robust track-record of the ODDO BHF Polaris funds and the stability of their investment process.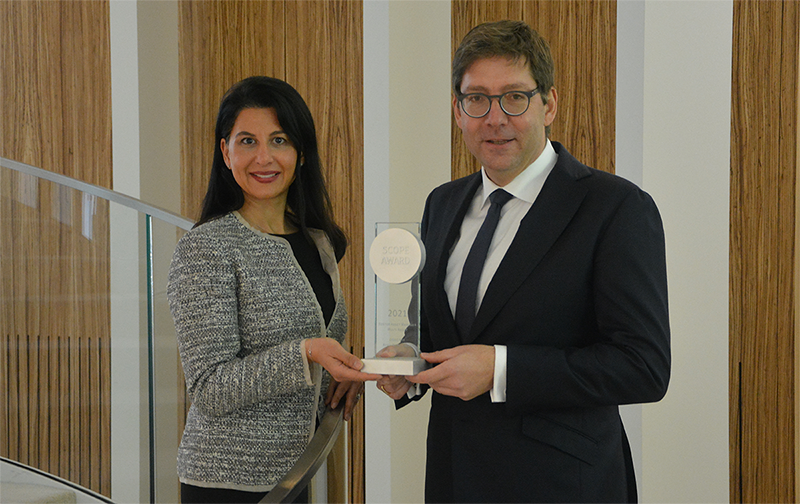 The Scope award is based on a two-stage evaluation process. It includes firstly a quantitative evaluation of the performance and risk data analyzed for the Scope Rating, which is updated monthly, combined with performance (momentum) in the last 12 months. In a second step, the five best asset managers based on the quantitative analysis are qualitatively assessed according to aspects such as organization, people and processes. This second step enables forward-looking statements on the quality of funds and managers. Investors who choose ODDO BHF's multi-asset funds can therefore be confident that they are investing in a particularly promising fund strategy according to Scope.
ODDO BHF Asset Management was also nominated as one of the best managers for "Equity small caps" which also include some midcaps funds. It means that flagship products such as ODDO BHF Avenir Europe and ODDO BHF Active Small Cap are also among the outstanding funds in Germany.
Scope Analysis is part of the Scope Group, the leading provider of independent ratings, research and risk analysis for all asset classes. Scope analysts evaluate the risk and return profiles of investment funds and the quality of asset managers on a daily basis. With their ratings, analyses and research reports, they support investors in their investment and selection decisions.
Investors in all the funds mentioned must be aware that they must bear the risk of capital loss. Past performance is not a reliable indication of future return and is not constant over time.
Latest news
Corporate News

13.05.2022

Alpha League Table 2022: ODDO BHF AM among the TOP 10 asset management companies for the quality of its equity management

Market Insights

11.05.2022

Focus on: Artificial Intelligence: Is it a game changer?