identidad
El grupo ODDO BHF
Sociedad financiera familiar cuya historia se remonta a 1849. Las
alianzas son la piedra angular de la cultura corporativa del grupo.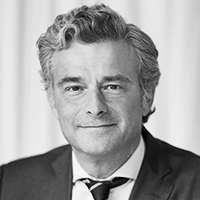 Hasta nuestros días, 5 generaciones de intermediarios financieros han escrito esta historia familiar
El objetivo del Grupo es proporcionar a inversores institucionales, socios de distribución, empresas y clientes particulares sus profundos conocimientos sobre los mercados financieros.
1849

Camille GAUTIER, Börsenmakler in Marseille

1978

Creación de Oddo Asset Management

1987

Philippe ODDO gestor asociado

2011-2014

Opening of international offices: Milan, Frankfurt, Singapore, Geneva

2015-2016

Creation of a Franco German dynamic


Acquisition of Seydler Bank,Meriten Investment Managaement and BHF Bank

2017

The Group becomes ODDO BHF


Rise of a unique Franco-German asset management brand ODDO BHF Asset Management el nacimiento de una marcaúnica francoalemana de gestión de activos ODDO BHF Asset Management

2018

ODDO BHF Private Equity


ODDO BHF Group adquiere ACG Capital, renombrándose como ODDO BHF Private Equity, para desarrollar competencias en activos no listados.
Fuente: ODDO BHF AM. Datos a 31/12/2019
*ODDO BHF. Datos a 31/12/2019
El Grupo se caracteriza por la singular estructura de su accionariado, ya que el 65% de su capital está en manos de la familia Oddo y el 25% en manos de los equipos. Esta filosofía de colaboración es la garantía de la implicación a largo plazo de sus equipos.
65%
Familia ODDO
25%
Empleados
10%
Sonstige
Fuente: ODDO BHF AM. Datos a 31/12/2019
*ODDO BHF. Datos a 31/12/2019
>110mld€*
De activos gestiondos
585mln€*
De producto neto bancario
890mln€*
De fondos propios
Fuente: ODDO BHF AM. Datos a 31/12/2019
*ODDO BHF. Datos a 31/12/2019
Nuestras áreas de negocio