identité
The ODDO BHF Group
A financial company which history dates back to 1849. The
partnership lies at the heart of the Group's business culture.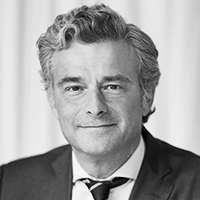 We want to promote a world where every day is an opportunity
The Group's ambition is to offer institutional investors, distribution partners, companies and private clients its in-depth knowledge of the financial markets.
1849

Camille GAUTIER, broker in Marseille

1978

Creation of Oddo Asset Management

1987

Philippe ODDO managing partner

2011-2014

Opening of international offices: Milan, Frankfurt, Singapore, Geneva

2015-2016

Creation of a Franco German dynamic


Acquisition of Seydler Bank,Meriten Investment Manag?ement and BHF Bank

2017

The Group becomes ODDO BHF


Rise of a unique Franco-German asset management brand ODDO BHF Asset Management

2018

ODDO BHF Private Equity


ODDO BHF Group acquires ACG Capital renamed ODDO BHF Private Equity to develop an expertise in non-listed assets.

2020

Strategic partnerships:


ODDO BHF signed a strategic partnership for Equity Brokerage with

ABN AMRO

in the Netherlands and

BBVA

in Spain.



Consolidation in Switzerland:


ODDO BHF completed the acquisition of the oldest bank in French-speaking Switzerland,

Landolt & Cie

, which is based in Lausanne and Geneva.

2021

ODDO BHF signed a strategic partnership for equity brokerage with

Commerzbank

in Germany.
Acquisition of

METROPOLE Gestion

, a specialist in value management.
The Group possesses a unique shareholder structure, with its shares held 65% by the Oddo family and 25% by its employees. This partnership concept is a guarantee of the employees' long-term commitment.
65%
ODDO Family
25%
Employees
10%
Other
Sources: ODDO BHF. Data as of 31/12/2020.
142BN€
OF ASSETS UNDER MANAGEMENT
781Million€
NET BANKING INCOME
1,064Million€
SHAREHOLDERS' EQUITY
Sources: ODDO BHF. Data as of 31/12/2021